While my dad had taught me the basics of piano tuning when I was 15, I really did not begin my career as a concert piano technician until I met George Winston. In the early 90's I was in a professional transition in my life and had built a small number of piano clients in Anchorage, Alaska. A good friend of mine had strongly encouraged me to continue pursuing the field of piano technology as he thought it might pay off well for me in the long run. I remember contacting Al Seitz, the senior tuner in Alaska and president of the Alaska chapter of the Piano Technicians Guild. He was a short frumpy old New York drummer who had come to Alaska in the 40s. When I told him I was thinking of becoming a piano technician he stared at me over his bifocals and thru his considerably thick eyebrows and said in his smoky New York accent, "You're gonna starve!" He chuckled in such a way that I sensed I was not to take him too seriously but from the looks of his old piano shop, I could see I had a lot to learn.
I had been tuning pianos off and on for about 15 years but there were several good tuners in Anchorage and it was clear if I were to be able to provide for my family it would require me to travel to some of the rural communities of Alaska. It was always an adventure traveling in Alaska. Very few communities were accessible by road. Boats, four-wheelers, airplanes, and on rare occasions, dogsleds were necessary to navigate this vast wilderness. Few Americans are aware that flying by jet from Dutch Harbor to Barrow to Ketchikan in Alaska is the equivalent of flying from LA to Chicago to Tallahassee in the lower 48. You certainly can rack up the air miles!
Because of my willingness to travel I received a random phone call from the agent of new-age jazz pianist George Winston in the spring of 1994. It appeared that George wanted to book a 2-week tour through the major cities of Alaska during June and he wanted a piano technician that would travel with him and take care of his piano needs. I really had no concept of what was required of a concert-level piano technician and had never worked for anyone famous before. But being the adventurer that I was I confidently said," Yes!." I was swept away that someone was willing to pay all of my expenses plus a salary to fly around Alaska and tune pianos! A few days later I received an eight-page piano tech rider describing in graphic detail every requirement for piano prep that would be expected of me. Anxiety began to overtake me as I realized I had very little knowledge of most of what was in this rider. I immediately began searching what little I could find on the internet (Hey, it was 1994!) and asking people like Al Seitz for advice so that hopefully I might avert being discovered for the fraud that I was. Fake it til you make it had never been more aptly applied to a situation!
George finally arrived and with great trepidation, I began my first tour with a nationally known pianist. What was unique about this tour was that everything having to do with entertainment which happened in Alaska normally always happened during "concert season" which was September thru May. All of the arts organizations around the state always scheduled their artists so as not to conflict with summer tourism and Alaskan's favorite sport…fishing! It was generally assumed to be financial suicide to book a major artist anywhere in Alaska during summer and expect to break even. As a result, no arts council in the state wanted to book George Winston so he booked his own tour apart from them. Not only did he break even but he sold out every concert in every community in which he performed.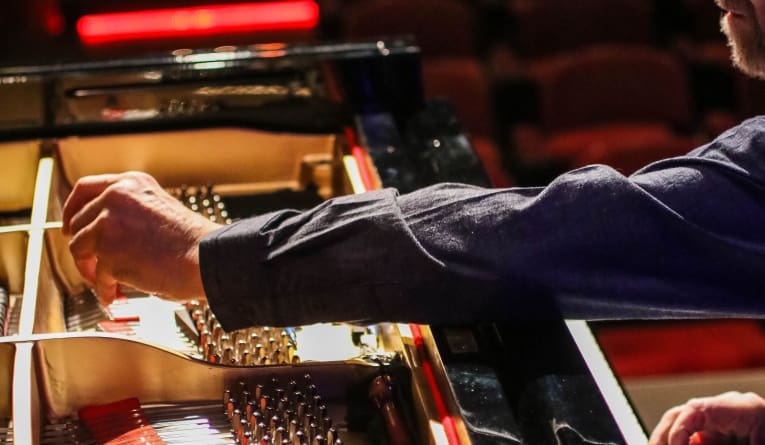 His road routine was unique to any other performer for whom I have ever worked. We would fly into a city late morning and I would head straight to the venue to work on the piano for the day. George slept during the day and would arrive at the venue sometime after dinner and practice on the piano throughout the night. He would jot notes on a piece of paper for me to address the following day and leave it on the piano. George was normally up by noon and would go to whatever public relations events he needed to attend before returning to the venue a couple of hours before his performance. Most pianists play "on" the piano. George actually "played" the piano. He wanted to explore the uniqueness of each instrument in such a way as to maximize the effect of not only his music but the instrument itself on the audience. He preferred the entire concert to be strictly acoustical (no sound reinforcement) so that the intimacy of the piano with the room and the audience was as critical to his expression as was his music. He was a very kind and gentle man. Tall and slender always performing in a t-shirt, jeans, and in his stocking feet. He once told me his style of piano playing came about because he grew up playing the organ, which he loved, and he was always trying to recreate the characteristics of an organ sound on the piano.
Somehow, I survived my first tour without being unmasked. Quite the contrary, George seemed to take a liking to me. The most unexpected surprise of all, however, came by way of the local notoriety which I achieved simply because I was George Winston's piano tuner! As we traveled from town to town I was inundated with requests to tune and service the pianos of all of the local piano lovers. I was seen as an "expert" even though I was actually quite green behind the ears. The end result was that my reputation and clientele throughout Alaska grew exponentially and I became a regular piano tuning fixture in most of these communities. George would come back to Alaska for several more summer tours and I began to pursue every avenue available in the US to sharpen my skills to actually be the concert technician to which I aspired.
During one of George's tours, he wanted to perform in a tiny little remote fishing town across Kachemak Bay called Seldovia. Seldovia is a charming town of about 700 people and a half dozen pianos scattered in their church, school, and a few lucky residents. The problem was George only played on grand pianos and as far as I knew there were no grand pianos in Seldovia. But after several phone calls with locals, it was determined that someone out Jackalof Bay Road had a very old grand piano that probably had not been serviced in 40-some-odd years. George asked me if I thought we could make it work. I told him I would do my best. George also told me not to worry much because if the piano turned out to be unserviceable that he would play a slack key guitar concert instead as he had been learning slack key guitar for the last couple of years.
Upon arriving in Seldovia a local pulled up in a pickup truck with 3 strong men to help us in the move of the grand to the local church. It was the only time I've ever moved a grand in a pickup for good reason. We got the piano to the church and I began to try and resurrect it from musical oblivion. It was in terrible shape – It was a half-step flat with many sticking and sluggish keys as well as VERY squeaky pedals. It took me all day just to get it mechanically functional and somewhat in tune but George played on it all night and declared with a few more hours of work he thought it would be useable. He did play a couple of slack-key guitar tunes as well but he completely charmed the packed church in Seldovia that June night. George fit right in with these folks and the warmth of his music was matched only by the Alaskan midnight sun which shined throughout the concert.
At some point before Y2K George's love affair with Alaska waned and he never returned for summer tours. However, in 2010 I was on my annual January visit to Maui and headed out on Tuesday night to see Grammy Award-winning slack key guitarist George Kahumoku in concert. It was a lovely evening of Hawaiian stories and slack key guitar. After the concert, I went to the CD table and struck up a conversation with the woman selling the CDs. She was clearly not Hawaiian in appearance. As it turned out she was George Kahumoku's wife AND the sister of George Winston!! When I related to her my history with George she said her brother had told her about me. She excitedly called her husband over and introduced me as "This is the Alaska piano tuner George was always talking about!" Mr. Kahumoku gave me a warm and heartfelt hug as though I were somehow now part of the family. They invited me to their house the following day where I met George Winston's mom and ate some delicious homecooked Hawaiian food. I saw Mr. Kahumoku many times after that visit, I'm not sure he knew my name but he always excitedly introduced me as "George's piano tuner". Not a bad moniker☺Not only had I acquired a new uncle in "Uncle George" but I had also found the source of George Winston's love and instruction in Hawaiian slack key guitar.
George Winston passed away this past Sunday, June 4th after a 10-year battle with cancer. He was a kind and gentle man and I will miss both him and his music.
RIP GW.